Blackberry, Lavender and Orange Blossom Jam
Following a recent blackberry foraging expedition I returned with a bountiful supply of beautiful wild blackberries. They are in season at the moment and abundant in both rural and urban areas. What better way to use your blackberries than in a fragrant and fresh jam flavoured with lavender and orange blossom water?
I love blackberry picking, there is something very relaxing about it...forgetting the world around you and stilling your mind with the simple task of picking the ripest berries.
The combination of blackberries with lavender and orange blossom water is a lovely taste of Summer - full of fresh, floral and herbal flavours. Lavender has been used in cooking for centuries and can be used in both sweet and savoury dishes. Lavender has a similar astringent quality to rosemary. Orange flower water is one of my favourites - soft, floral and lightly perfumed - a good contrast with the sharp lavender and blackberries. I love floral flavours in cooking, but don't over do it, or you will end up with 'soapy' rather than fragrant. Check out my rhubarb, rose and vanilla jam for another floral, fruity jam.
You can buy edible/culinary lavender from supermarkets or online. Be sure to use lavender that is suitable for culinary use and from a source that you know has not been chemically sprayed.
Happy jam making! My blackberry, lavender and orange blossom jam is great served simply on toast but I also found it worked really well alongside some lovely ripe brie. Your thoughts and comments are always much appreciated. Do give this recipe a try and let me know how you get on. I look forward to hearing from you and sharing your jam making stories and recipes.
Blackberry, Lavender and Orange Blossom Jam
recipe by: chip butties and noodle soup
preparation time: 5 minutes
cooking time: 15-20 minutes
zest and juice of 1 lemon
3-4 tbs orange blossom/orange flower water
*
Be careful not to pick any
blackberries
from areas that have been sprayed with nasty weedkillers or chemicals. If in doubt you can always get
blackberries
from your local market.
gently wash your blackberries being careful not to bruise them too much, or the colour and flavour will seep out

put a couple of saucers in the freezer for testing the jam setting point later.

add your blackberries to a large pan with the salt, orange blossom water, lavender, lemon zest and juice and bring gently to the boil for about 5 minutes - until the blackberries have slightly softened and started to release their juice.

add your sugar and stir gently until it's fully dissolved.

bring to the boil for 10 minutes, skimming off any 'scum' that rises to the surface.

test the setting point of the jam by placing a teaspoon of the jam onto a cold saucer. Leave 30 seconds, and if the jam 'wrinkles' when you push your finger across it the setting point has been reached. If not, bring the jam back to the boil and test after another 2 minutes. Repeat this test until the setting point has been reached.

remove from the heat and pour the jam carefully into sterilised jars (check out how to do this here) and seal immediately.

store in a cool dark place until you are ready to use. Once opened store in the fridge.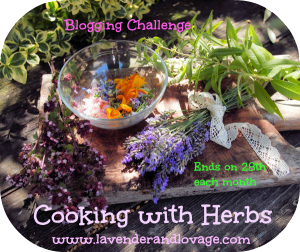 I have entered this recipe into