"Thousands of species of edible fish live in rivers all around the world, so it's hardly surprising that over 125 different types can be found in the fresh river waters of the United Kingdom. Despite the current interest in locally sourced ingredients, regional recipes and even foraging, few chefs have as yet to explore and serve food from this rich and diverse supply...until now."
On a beautiful sunny July day our meeting place was the Festival Pier on London's South bank. Once all aboard the Thames river boat
MV Royalty
we were treated to a selection from the impressive menu below.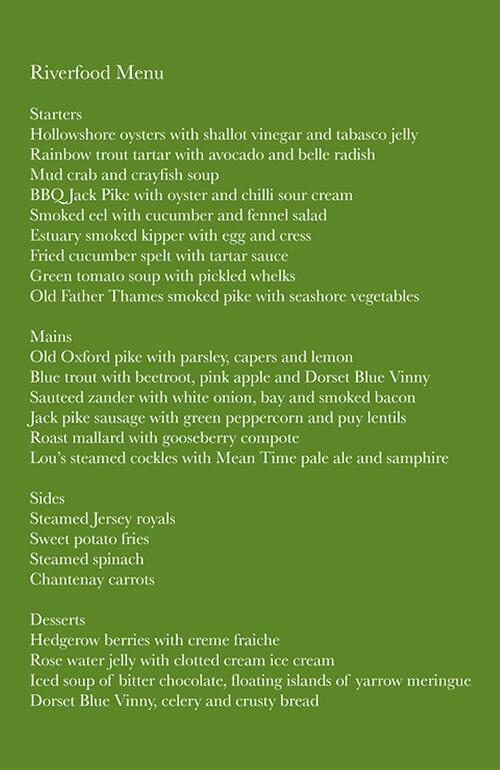 We were welcomed aboard with refreshing watermelon or grapefruit cocktails - the perfect cooler for the beautiful sunny weather we had.
Next up were sea-salty fresh hollowshore oysters with shallot vinegar and Tabasco jelly. I spoke with Phillip Cooper, consultant chef and one third of
Coopers restaurant consultants
about his menu. I was told that "cooking is simple when you have good ingredients" and good ingredients were not something that were in short supply. We continued to be served a fantastic selection from the menu.
cockles
Jack Pike sausage with green peppercorn and Puy lentils
smoked pike
rainbow trout tartar with avocado and belle radish
sauteed zander with white onion, bay and smoked bacon
The jack pike sausage with Puy lentils was a particular favourite. A peppery, mousse-like sausage finished on the BBQ served with vinegared Puy lentils....but then saying that the hollowshore oysters with Tabasco jelly did occupy my thoughts for some days after the event! Simple, pure flavours with a hint of heat from the Tabasco jelly - faultless.

Although the invite said that we would be "staying put" we were surprised with a magical boat trip on the Thames and had the chance to take in the sights, beautiful weather and delicious food - happy days!
My only disappointment of the day was not being able to sample the delicious sounding desserts. Maybe next time....? I will definitely be keeping up to date with #riverfood and look forward to their next pop up foodie event.
You can follow
Coopers restaurant consultants
on
facebook
and
twitter
.

I was an invited guest of
Coopers restaurant consultants